Photography & Trauma: Psychological Stress & the Occupational Hazards of Exposure to Traumatic Imagery
September 16, 2018
1:30 pm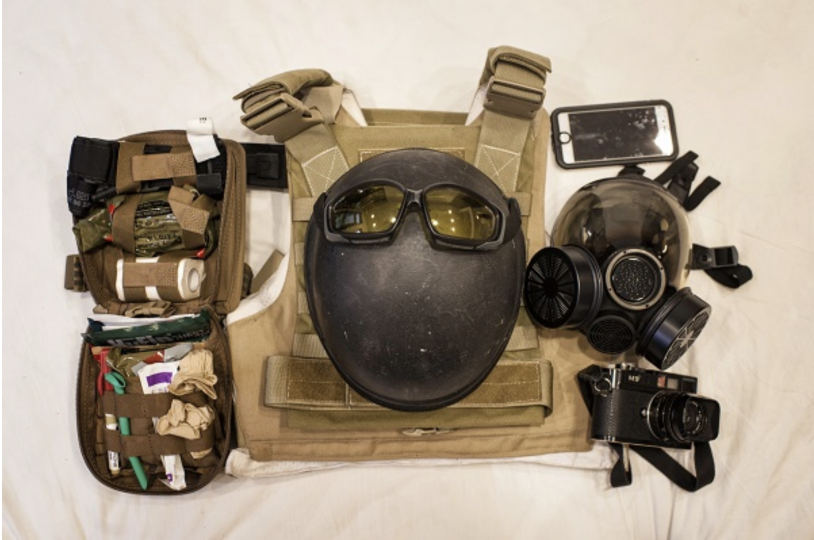 Why are photographers and photo editors at particular risk for trauma and psychological stress? What are the barriers to treating trauma and how do we address them? What resources are available?
Presented in partnership with ACOS Alliance and The Committee to Protect Journalists, this panel will feature Alison Baskerville, Ashley Gilberston, Nicole Schilit, Bruce Shapiro and Cengiz Yar.
Speaker Bios

Alison Baskerville is a British documentary photographer and military veteran. She explores themes of conflict centered around gender stereotypes. Informed by a military career including tours of duty in Afghanistan and Iraq, she is currently exploring the relationship to the often compartmentalised approach to war and the invisible effects on veterans and citizens involved in modern conflict. Alison's first major piece of work, entitled "The White Picture," looks at the role of women in the British Army. As a supporter of a more intersectional approach to gender, Alison is now looking at themes of masculinity and hypermasculinity. In addition to her photographic work, she has recently set up a movement to deliver training to female journalists in relation to sexual and gender-based violence.

Ashley Gilbertson is an Australian photographer and writer living in New York City, widely recognized for his critical eye and unique approaches to social issues. Gilbertson is a member of the VII Photo Agency, a frequent contributor to The New York Times, and a collaborator with the United Nations. Gilberton's work from Iraq earned critical acclaim from the Overseas Press Club, which awarded him the Robert Capa Gold Medal for his 2004 work in Fallujah. Gilbertson's first book, "Whiskey Tango Foxtrot," released in 2007 to critical acclaim, went on to become a bestseller. After Iraq, Gilbertson shifted his focus to veteran issues, drawing attention to post traumatic stress disorder, suicide, and traumatic brain injuries. Since 2014, Gilbertson has been examining global migration, with an emphasis on the arrival and integration of refugees in Europe, and the root causes for migration from Africa.

Nicole Schilit is the Coordinator of the Journalist Assistance program within CPJ's Emergencies Department. She is responsible for providing direct support to journalists in distress and advocates on behalf of exiled journalists who have been forced to flee their home countries after being targeted in response to their work. Nicole works with a global network of partner organizations to coordinate and implement assistance strategies for journalists around the world and is one of the leads in a multi-organization initiative aimed at providing more comprehensive trauma support for journalists.

Bruce Shapiro is Executive Director of the Dart Center for Journalism and Trauma, a project of Columbia University Graduate School of Journalism, encouraging innovative reporting on violence, conflict and tragedy worldwide. An award-winning reporter on human rights, criminal justice and politics, Shapiro is a contributing editor at The Nation and U.S. correspondent for Late Night Live on the Australian Broadcasting Corporation's Radio National. He is also Senior Advisor for Academic Affairs at Columbia Journalism School, where he teaches ethics. His books include "Shaking the Foundations: 200 Years of Investigative Journalism in America" and "Legal Lynching: The Death Penalty and America's Future." He is a recipient of the International Society for Traumatic Stress' Public Advocacy Award for "outstanding and fundamental contributions to the social understanding of trauma."

Cengiz Yar is an American documentary photographer who spent the past two years working in Iraq. His photography and writing is focused on mass displacement, religious and ethnic minorities, and the fight against the Islamic State. Cengiz's editorial clients include Vanity Fair, WIRED UK, Google, The Guardian, The Wall Street Journal, and Foreign Policy Magazine, among others. His humanitarian clients include organizations such as UNHCR, UNICEF, UNMAS, and Mercy Corps. He was awarded ONA's inaugural 2015 James W. Foley Award for Conflict Freelancers and was listed by Getty Images Reportage Emerging Talent. He was part of the Associated Press photography team listed as 2017 Pulitzer Prize Finalists and served for the past three years as a board member of the Frontline Freelancer Registry.